Hi, I'm Bronwyn, a long time clothes wearer who took up sewing aforementioned clothes in 2015 because it felt good to slow down and make things with my own hands. I'm a engineer who lives with my husband and two dogs in Australia. I also happen to be a plus sized woman; so have had a long, complex relationship with clothes and fashion culture. Let me introduce you briefly to my long time nemesis of 'sustainable fashion' – the Buyerarchy.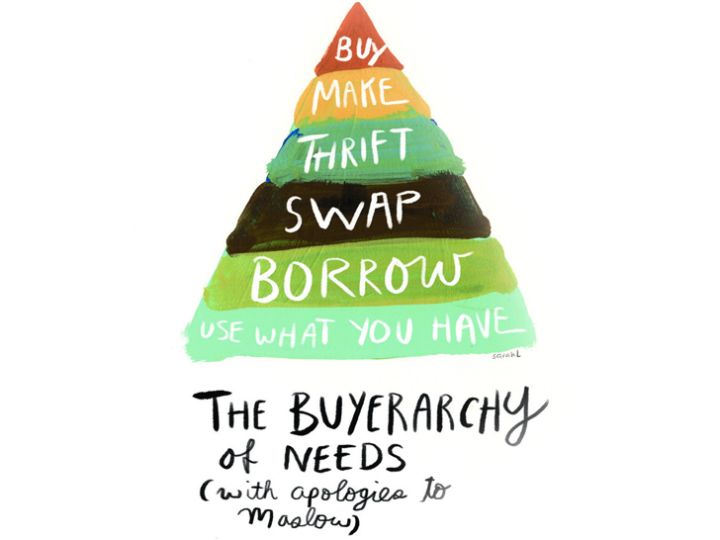 Once, and only once, I've purchased an item of clothing for myself at a thrift shop. It was a jacket, I don't know its history but I remain curious (though it is long disappeared from my wardrobe), because it was probably from the 1980s or earlier, and – the weird part – it was an Australian size 20. In a) boucle, it was fashion before its time, it would have gone great in a 2020 wardrobe, it probably is still out there somewhere. We'll never know.
My boucle masterpiece was the anomaly though, thrift shops or as Australian's call them Op Shops aren't for me. I am an Australian size 22-24 (regularly a plus size 18 top/20 bottom), so in plus sizing I'm pretty small, but in the thrifting world what's known as 'fabric fodder'. Like a lot of the Buyerarchy (which I agree works great for generic home goods) options, thrifting is not an option for me as a plus sized woman.
I hate when the Buyerarchy comes up in fashion circles. I love sustainability; we have solar on our roof, Keep Cups in our car and a compost bucket in our kitchen; but I hate when people preach about never buying clothes. For me, at many times, buying clothes is the dream. I have, for a bit of fun gone through the hierarchy for an 'honest review' of my experiences with the opportunities it presents.
We are going to start at the top, with Buy. If you are a smaller plus sized person like myself – the kind lucky enough to buy anything in a shop – you'll probably relate to this anecdote. Last year I got my dogs as adorable puppies. At about 6 months old they developed a penchant for my underwear and ate 5 pairs – meaning I needed more underwear, and pretty immediately. I went to the large shop near my home, a Big-W for fellow Aussies, on a mission to buy underwear. I walked through 4 rows of underwear, only to realise I had 3 options – 5 if you included the 'full granny' options with the pastel yellow and the three step zigzag elastic. Of these options, if I wasn't going to go full granny, there was 1 that was in a size 22, the rest a 20 that I could convince myself to buy if its that or go commando. This, is my experience of shopping.
So I frequently can't buy basic clothing items, even if I wanted to. Which means I am constantly being told 'not to worry, you can make that'. I guess its lucky we have lots more sizes now in patterns – but making ALL your clothes is absolutely exhausting. I honestly don't sew as much as I would like, and when I do sew, I rarely get office-ready makes out of it. Sometimes I do decide to make what I need, but it doesn't get clothes into my wardrobe fast enough for my occasionally immediate requirements.
So we are down to Thrift, this is identical to make, except maybe you lucked into a thrifted doona or a piece of fabric you can incorporate into a project. I did, in fact, make a recent project with thrifted fabric. I found a 1 by 1.4m piece of funky purple and used it to make the body of a jacket lining. As I started by saying, I've only thrifted 1 piece of clothing in 10 years, I've rarely seen my size at the Op shop, and if it is there, it's almost universally ugly.
Buying the ugly thing is not what straight sized people mean when they talk about thrifting. They don't find something they like at every Op Shop, and I think at any one Op Shop there is more clothes in a size 10 than I've seen in a 20+ in all the shops I've ever been in. Of course I can't find anything thrifted. Of course, if you are plus and have successfully thrifted, go you. To everybody else, don't worry about it, if it isn't in the RTW shop, its not going to be in the second hand shop.
After thrift there's borrow and swap. These are either 'make' or 'use what you have' – that's your choice. I don't meet many people who are my size, who am I going to swap or borrow from? Usually swap or borrow means home me borrows clothes from work me. Does that count as borrowing?
So now we are down at the bottom 'Use what you have'. There's something about the wording of this that sounds really upbeat – like what you have is in fact what you need. I'm here to free you, dear fellow plus sized sewist, that unless you really want to, you shouldn't have to make do with the pants that don't really fit or the jacket you bought two winters ago which was the last time you found one that fit, or the undies your dog bit the crotch out of (real talk). It is fair and reasonably to be looking to refresh, update or increase your wardrobe. Its ok to buy that stuff when you get the chance, don't think twice, you and I both know you don't that chance every day.
Use what you have gets to the heart of why I hate this pyramid. It assumes people can get what they need in the first place. In the plus sized world, this is simply not the case. So many plus sized people are forced to dress in old and ill-fitted clothes because they don't have a choice. Many plus sized people come to the sewing community because it is 'Make Or Else'. We are lucky in the sewing community to have the support of a growing number of designers who are willing to produce patterns in sizes that fit our larger bodies. Hopefully, we continue on this trajectory of inclusiveness, because the feeling of being stranded in a shop needing an item of clothes that you can't purchase is soul destroying.
I want to end by saying, I think plus sized people are usually more sustainable in their clothing choices than the average straight sized body. Sure, you bought some of your clothes brand new rather than making 100% of your wardrobe; but you only stopped wearing them after 2 years because they got holes or you changed size and they didn't fit. Along with not being available to purchase, its part of why they don't appear in thrift shops. Plus sized bodies wear their clothes to death, because when something fits and is comfortable, you know you may never get that opportunity again and you take it and enjoy it.
This has been written from the privileged position of a CIS-gendered plus size woman who lives in a medium sized city with access to plus sized clothing in stores that are her size and access to Op Shops (even if they don't have stuff in her size). There are a lot of plus sized people who because of their size, their location, their ethnicity or gender identity have an even more difficult time.
If you want to hear more, Bronwyn can be found on Instagram at @prittystitches.